Faulty Towers The Dining Experience
4,8/5
Nach 276 Bewertungen
(Bewertungen)
Buchung bis: Sonntag, 18. Dezember 2022
Dauer: 2 Hours
Fotos
Faulty Towers The Dining Experience Beschreibung
A 2 hour interactive production set in a restaurant where the audience are the diners who enjoy a 3 course lunch or dinner.  Faulty Towers The Dining Experience debuted in Brisbane on April 24 1997.  Since then thousands of people have enjoyed the antics of Basil, Sybil and Manuel.  This is the 5-star critically acclaimed production constantly in demand throughout the Australia, Europe, United Kingdom, Ireland, Scandinavia, United Arab Emirates ...
Faulty Towers The Dining Experience is site-specific immersion theatre, and is suitable for public performances, and for private showings of the full performance. (Corporate performances by the Faulty Towers performers are available - see corporate performances section for options). The performance is fully interactive and portrays the spirit of the characters and the atmosphere they create - ie it does not use scripting by John Cleese and Connie Booth. The performers are impersonators only, and have no connection to John Cleese, Connie Booth or the BBC. 
Please note: this is a dining experience, dietary requirements can be organised with information in the confirmation email.
Faulty Tower Menu
(Please note this menu is subject to change)
Starter
Broccoli Super Green Soup, Courgette Fritters, Bread Roll, Butter
Allergens: Celery, Gluten, Sesame, Milk, Wheat,
May contain: Soya, Eggs, mustard
Vegan: Broccoli Super Green Soup, Courgette Fritters, Bread Roll, Margarine (Ve)
Allergens: Celery, Gluten, Sesame, Wheat
Main
Roasted Lemon & Oregano Half Chicken, Roasted Potatoes, Basil Infused Vegetables Medley
Vegan: Butternut Squash & Lentils Wellington, Roasted Potatoes, Basil Infused Vegetables Medley
Allergens: Wheat, Gluten
May Contain: Peanuts, Tree Nuts, Almonds, Brazil Nuts, Cashews, Hazelnuts, Macadamia, Pecan, Pistachio, Walnuts
Dessert
Chocolate Cheesecake, Forrest Berry
Allergens: Soya, Eggs, Milk
Vegan: Chocolate and Coconut Tart, Forrest Berry
Allergens: Tree Nuts, Almonds, Hazelnuts, Soya, Cashew, Walnuts
Important COVID-19 information
Mask
We recommend that you wear a mask while inside this venue.
Covid safety
This venue has additional Covid-19 safety measures in place to ensure the health and well-being of the staff, performers, and guests.
Additional information
It is recommended that you take a Covid-19 rapid lateral flow tets within 48 hours before arrival.
Adresse des President Hotel
56-60 Guilford St, London WC1N 1DB, United Ki, London, WC1N 1DB GB (Mehr Infos)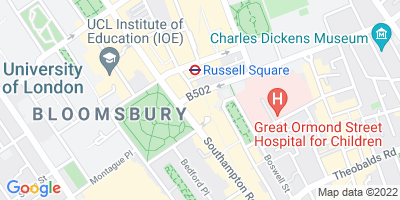 Wegbeschreibung
Wichtige Information
Your ticket includes 3-course 1970's style meal and 2-hour comedy performance.  The venue is licensed, and beverages will be available to purchase at an extra cost.
In order to gain entry you must present a printed copy of your voucher.
Strictly No Photography or Filming is allowed
IMPORTANT: If you have an allergy to nuts, whether airborne, through ingestion or physical contact, please let us know and confirm the nature of it at least 72 hours before the performance.  If we are not made aware of this until the performance date, the hotel and ITI reserve the right to refuse admission.  Please note that we also have a gag in the show that involves peanuts, if we are aware of your allergy we will source a reliable nut free alternative. However, please note that even the manufacturers of this cannot guarantee that their product may not contain traces of nuts. 
Vorstellungen
Ähnliche Shows
The Play That Goes Wrong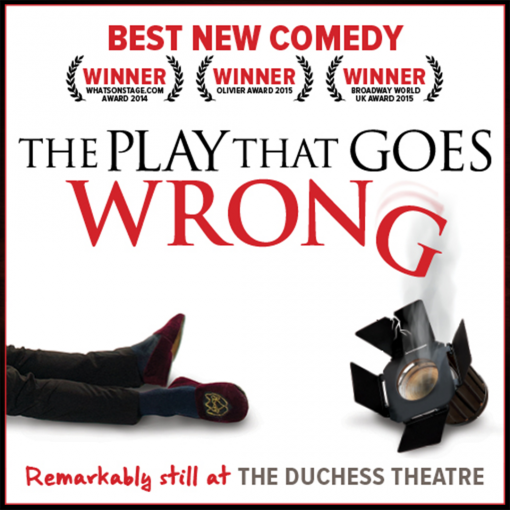 The Play That Goes Wrong
4,7/5
Nach 1468 Bewertungen
Läuft jetzt im:
Duchess Theatre
Buchung von: Freitag, 18. Juni 2021
Buchung bis:
Sonntag, 2. April 2023
Dauer:
2 hours 5 minutes
ab

28,99€
Magic Goes Wrong
Magic Goes Wrong
4,5/5
Nach 36 Bewertungen
Läuft jetzt im:
Apollo Theatre
Buchung von: Donnerstag, 21. Oktober 2021
Buchung bis:
Sonntag, 27. Februar 2022
Dauer:
2 hours 10 minutes
ab

28,99€
The Great Gatsby
Sparen Sie 34%
The Great Gatsby
4,5/5
Nach 63 Bewertungen
Läuft jetzt im:
Gatsby's Mansion, Immersive London
Buchung von: Donnerstag, 16. September 2021
Buchung bis:
Sonntag, 30. Oktober 2022
Dauer:
2 hours 10 minutes (one interval)
ab

54,49€